Why Quality Translation Services DMCC is the Best Translation Company in Dubai
Quick – what is the one thing you need the most when you are going to a foreign land, be it for business, work or just to travel? A knowledge of the local language there, right? That is where language translation service providers like Quality Translation Services DMCC (QTS) come in. One of the most sought-after certified translation service providers in Dubai and JLT, QTS has made an artform of translation and interpretation jobs in the whole of UAE – so much so, that the brand name QTS is synonymous with the best translation service provider in Dubai and JLT zones. QTS DMCC is officially renowned for providing premium quality translation services in Dubai. Quality Translation Services DMCC is duly licensed and incorporated translation agency and company by UAE government.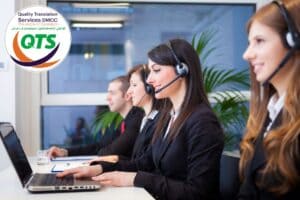 What makes QTS the best in business?
To begin with, QTS employs world class translators. They are expert linguists plus well-versed in multiple sectors of business, law, economics, science, education, and more. This apart, QTS prides itself in the fact that they aim for 100 per cent customer satisfaction and achieve it – they have a great client relationship that keeps bringing them back more and more clients. Everyone who has every assigned a job to QTS will vouch for the fact that their way of dealing with translation is quick, efficient, accurate and on point. On the legal side, QTS is the only certified translation services provider in Dubai and JLT area. All this makes QTS DMCC the best in business.
Quality Translation Services- DMCC provides complete communication solutions to customers –
Their expertise spans all areas of translation. If you hire QTS DMCC for your translation job – be it big or small, you can be assured of many value-added services. For corporate, tech giants and other business conglomerates, QTS provides demand-driven customized packages. They also have interpretation services, voice-over, and subtitling services, they provide equipment for interpretation, and other events, and they help with documentation and attestation services. It is to be noted here that not all translation service provider nearby Dubai and JLT are certified by the local government to provide attestation services as well – and so, QTS has a distinct edge here.
QTS aces legal translation in Dubai –
Legal translation is an important aspect of translation services in Dubai. For, the government dictates that all legal papers must be in Arabic. QTS DMCC translates all types of legal documents from English to Arabic and vice-versa and handles translation of 150-plus other languages. This makes their network one of the most extensive – spreading across the globe. QTS provides certified legal translation services for a plethora of official documents such as birth and death certificates, marriage certificate, and more. They can handle the complete documentation, translation and interpretation for immigration services, judicial proceedings, official meetings, symposiums, political rallies and more.
Value for money, accurate services –
No one gets it right like Quality translation services- DMCC does. And the very first time, too! Their expert linguists are a delight to work with, and they know how conduct themselves professionally. QTS DMCC makes the whole process of a getting a translation done very easy. They sit with you to understand your intent and content, then assign a project manager who is dedicated only to your work. Then the team gets to translate your documents – and then follows a series of stringent checks by their senior proofreaders and editors to ensure all the technical words as well as culturally nuances words and phrases have been translated right. This ensures you address your communication just the right way to the target audience. Only once the document is completely checked for absolute accuracy that they hand it over to the client. This ensures you are not hassled for time and getting the task completed with multiple revisions, and that you get a zero-error translated document in your hand in the shortest possible time.
To conclude, the reasons that make QTS DMCCthe best certified translation service provider in Dubai and JLT are many. But to experience what it is to work with the best in business, just search for 'top translation service provider near me' and you will find them. Make a call and get first-hand experience for yourself!
Get a Quote Now : Legal Translation Services in Dubai