Tips on How to find certified legal translation services in Dubai
Having one the most technologically advanced economies in the world, Dubai has an integration of digital competitiveness as well as favorable business policies to help set up profitable professions.
The legal translation services propounded are deemed to be the vital services required to strategically plan and execute one's ideals in the hyper-connected business hub of the emirates.
As per government policy in the UAE, all legal documents are required to be presented in Arabic. Whether it's the case of immigration blueprints, interpreting services for court cases or analysis of bonded labor contracts, Legal translation services near JLT Dubai and other states of the UAE will have you covered.
A straightforward way to initiate your hunt for the best translation services near JLT Dubai will be to conduct a simple Google search on the keywords "Arabic translation company near me".
This is a guaranteed method for you to be provided with an array of legal translation companies in Dubai that satisfy your requirements of legal translation.
But performing a quick search is not quite enough to ensure that you will be delivered high-quality service. There are multitudes of quality checking factors that need to be taken into account before selecting a legal translation service.
One of the most significant elements is certification.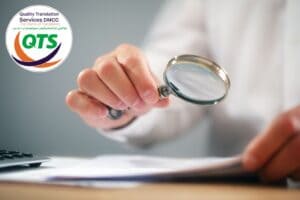 Certified legal translation services
Certified legal translation services near JLT Dubai attest to the accuracy and authenticity of translation in contrast to non-certified legal translation services. They also deliver high-quality work attached with a license of experienced and highly qualified linguists.
Here are a few pointers for you to efficiently find certified legal translation services in Dubai:
Quality of language serviced
Certified legal translation offices in Dubai have personnel who express precision and a high command over the native and the target language. This is done by translation companies near JLT Dubai like Quality Translation Services DMCC through the consolidation of adept linguists from all over the region. They offer low rates in terms of monetary capital without compromising on the quality of work delivered.
Certified legal translation services have a professional structure of workflow which comprises of employees to translate, draft, edit and use quality assessing techniques to ensure products of high caliber.
An effective way to procure the measure of services in terms of quality offered by any Translation office in Dubai is to survey the strategy used by the translation company in Dubai in their previous involvement in legal proceedings, which leads us to the next factor given below.
Reviews of the company portfolio
Considered as an old-school yet effective method to carry on your sleeve while hunting for the best translation services near JLT Dubai, a follow-up on reviews based on previous clients form a statutory foundation in the establishment of a well-certified legal translation service. These reviews help you gauge the ability of the translation companies near JLT Dubai to make astute investments in terms of patenting and the vantage point of professionalism.
Ethically responsive stratagem
A certified legal translation service like the QTS-DMCC is more dependable in terms of ethical responsibilities to conform to the standards of certification in comparison to non-certified legal translation services near JLT Dubai. Certified translation services adhere to protocols of signing NDA statements with clients if necessary in environments where confidentiality of the documents delivered is an apogee of priorities. These contracts also ensure that there is no liquidation of the documents delivered by preventing leaks within the company. The bonded labor contracts offered by certified legal services ensure the institution of strict penalties if there are delays in the time of project transposition.
Resourceful materials
A highly pivotal factor ensured by certified legal translation services near JLT Dubai like QTS-DMCC is the ability to encapsulate resources in terms of manual and digital solutions for problems in translation proceedings. This prevents minute errors that are bound to occur while translation from or to the syntactically complex language that is Arabic. This approach also makes it functional for linguists to perform accurate translations without the loss of Arabic semantics.
Conclusion
Certification is an essential quality to search for while searching for "Arabic Translation Company near me" on Google buta certified translation company should also possess the above-mentioned factors in premium conditions to meet your requirements without any hurdles. Even if the project is considered to be small-scale, it is heavily advisable for you to contact certified services like QTS-DMCC in Dubai to ensure high-grade delivery of the work required.
Get a Quote now: Legal Translation in Dubai