Six Reasons Why Legal Translation Services is Important in Dubai at Quality Translation Services DMCC
There are many who translate from one language to the other – they may translate everything from documents to documentaries. But legal translation, is a different ballgame altogether. First of all, legal translation in Dubai means getting the political, legal and ethnic nuances correct. Second, is not an easy segment to handle because the translator also needs to be a legal eagle, with deep understanding of the law. And though this is the basic, and yet most important reason as to why Quality Translation Services DMCC (QTS) is the best translation services company in Dubai-JLT zone, there are a few other reasons, too: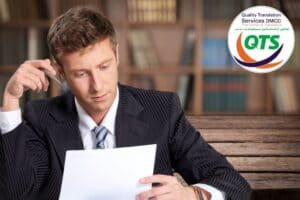 Quality: The brand's name stands for quality in the field of legal translation in Dubai – that's one thing they never compromise on, no matter what the deadline is, they are a legal translation company in Dubai that promises on-point translation that's accurate, and offers the best value for money. The translated documents that that they share with our clients are error-free as they are proofread and checked at various levels by expert editors.
Trust: The QTS client list is a long one and comprises business honchos and top bosses of various global Fortune 500 companies. They come to Quality Translation Services DMCC because they trust only this legal translation company in Dubai completely to do a fabulous translation job in all the languages of the countries, they do business in. Plus, they also know that we are very discreet and handle sensitive documents very carefully as well as secretively. The company has a special task force of translators and editors for this, and they have been handpicked from the best of the lot from across the world.
Service: QTS is the certified legal translation company in Dubai and JLT known for their excellent service. Their track record is unblemished and they pride themselves in providing superlative service for all translation and interpretation requirements of corporates, individuals, events, the judiciary and more. Their benchmarks are above the industry standards and the satisfied customers always talk very highly about this legal translation company.
Leaders in the industry: For many in the UAE zone, this is the only legal translation company nearby that delivers quality work. This is the reason why Quality Translation Services DMCC are the industry leaders when it comes to all kind of translation services. From legal translation to license, medical documents and journals, immigration papers, marriage and divorce certificates, IT manuals, office communication… they handle it all with ease, and deliver the translated content to the clients without missing any deadline. QTS often gets hurried, last minute requests for various translation jobs, and they undertake them all with equal attention to detail – be it a huge corporate conglomerate or an individual.
Local as well as global experts: This is where QTS scores the most. Their network of translators and editors are spread far and wide, and hail from almost all the major business countries of the world. That is the reason why their translation services nearby and in Dubai and JLT is considered the best. Their linguists are native speakers of the language, and they are also experts in various legal and other fields, thereby having the expertise of nuanced translation.
Communication experts: A one stop solution for all communication needs – that's what QTS is all about. They provide translation services in Dubai that are quick, efficient and on the point. They offer communication solutions that cover and entire gamut of corporate requirements – from quick translation of documents, to helping interpretation of speeches and conversations, live event translation, et al.
To conclude, one must say that once you go to Quality Translation Services DMCC for even a small translation job, you will be flattered by the attention given to you and will keep going back with more work. So, why don't you try out the QTS experience today itself? Be assured, you'll get a perfect translation job back in your hands!
Get a Quote Now : Legal Translation Services in Dubai